The Treat Trap .. Infused GOODIES
The Treat Trap.
Let your sweet tooth run wild with these tasty, mouthwatering, filled with love treats by Tiana Joyner.
(but wait, there's a surprise inside..if you like to partyyy!)
Tiana Joyner, owner and operator of The Treat Trap, really put her feet in her treats! Your taste buds will go on a rollercoaster of savoriness with just one bite! I promise you!!! Her variety of flavors will expand your palette of sweets every time she bakes a new dish!
The Treat Trap
You know how they say "know thy neighbor"? Well, I'm glad we're actual neighbors! We finally sat and got to know each other one day, years ago. Come to find out, WE'RE FROM THE SAME HOMETOWN! Seattle, Washington STAND UP!! SeaTac in the house! For me, it's rare to find someone from little ol' Washington...so, THE FACT THAT MY NEIGHBOR IS FROM THE SAME TINY STATE AS ME .. blew. my. mind! We've been waving and flaving ever since!
One day, she dropped by with some goodies. My sweet tooth started dancing the same time my hips did! I took a bite, almost passed out it was THAT good! I couldn't believe it! Come to find out, the treats are INFUSED with cannabis! What a beautiful twist! My favorite! She also bakes goodies with alcohol! THAT'S what I mean by, if you're ready to party, stop by The Treat Trap first!
About the owner:
"As a child growing up in the state of Washington (about an hour from Seattle), I never imagined that baking would be a part of my daily routine. I started my passion for all things sweet one warm fall evening in Atlanta, GA when a good friend of mine showed me how to bake a good old' fashioned pound cake. My passion grew when I saw how people responded to my cakes with smiles on their faces and what seemed like amazement in their eyes. I thought to myself, "I may be on to something here!"
I began selling homemade cakes to family, friends and co-workers and shortly after I started
receiving dozens of orders. I am a proud "self-taught" baker and keep my craft defined by attending many different baking classes and by studying local as well as premier bakers across the nation. Being from Seattle, cannabis holds a special place in my heart due to its medicinal properties. I am a witness of how cannabis has been effective in managing the pain in that of cancer patients as well as individuals suffering from the pain of sickle cell disease which led me to incorporate it into a variety of confections.
So, whether your sweet treats are infused or not, I can guarantee you will not be disappointed! Get caught in the trap, The Treat Trap!
Owner/Operator
Tiana Joyner
Instagram: https://www.instagram.com/the_treat_trap/
Facebook: https://www.facebook.com/The-Treat-Trap-LLC-155309301780494/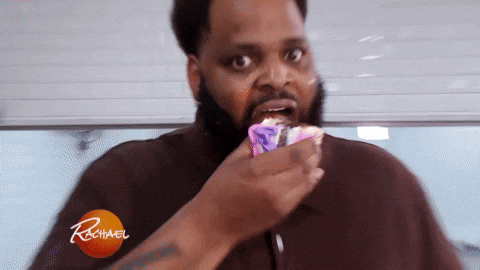 Addicting! I'm telling you!!!